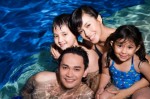 Experience peace and harmony in your Dripping Springs new home!  As part of the Rimrock community by Brohn Homes, everything an Austin new home buyer could want in a neighborhood has been considered and fully put into place!  Take advantage of spectacular panoramic views of the Texas Hill Countryside and immerse yourself in the natural beauty of feeling "away from it all."  From the rolling hills and mature treeline, the area is comforting and offers privacy to homeowners without making anyone feel cut off or secluded from the outside world.  Think of it as a retreat you get to experience on a daily basis, and take advantage of walking through beautiful winding trails specifically designed for residents to wander through, jog upon, or ride their bikes.  This greenbelt holds its own!
Families who choose Dripping Springs have found one of the fastest-growing towns around the Austin metro.  The Dripping Springs Independent School District (ISD) is well-known and regarded in the area.  There's easy access to MoPac and Highway 290 for any and most commutes necessary to work or for pleasure.  The Barton Creek Mall and the Austin Bergstrom International Airport are just moments away as well.  If you're looking for additional employment opportunities, major companies include AMD, Seton Southwest, and Freescale. Of course, it's just a few minutes of a short drive to downtown Austin for a vibrant nightlife!  Whether you're heading out to see live musical entertainment, grab dinner, or go shopping, there's always something to do, and living in Dripping Springs is the ideal location for a new home in the Austin area!
Brohn Homes is an award-winning new home builder throughout Rimrock communities.  They specialize in estate homes and innovative new home construction that anticipates the buyer's needs.  Give them JD Almond, the Brohn Homes Sales Representative for Dripping Springs a call at (512) 537-1543 for more information and to schedule an in-person tour of their model home.  You'll be glad you did!