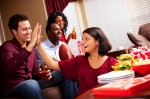 Are you considering building a brand new, custom home in Houston, Texas? It's likely, then, that you have come to that decision based on the perks that you, as a home buyer, are a major catalyst in the building of a new home.  It's not only new, it's built with you in mind.  A custom home allows for complete customization based on your needs, your lifestyle, and what you envision  your dream home to look like.  It's important to find a custom home builder who is reputable in their field in both design and construction, but most of all, one who'll work with you throughout the process and is focused on ensuring your complete satisfaction with the finished product.  To make that search easier for you, we've put together a growing list of custom builders in Houston who we'd heartily recommend!
Bella Vita Custom Homes might as well be the textbook definition of luxury. This high quality new home builder is featured in no fewer than 11 different communities in the Houston area.  Their art is the seemed effortlessness of blending together aesthetic beauty and modern day practicalities with the specific preferences of each individual client.  Buying a new house is always an investment, but building with Bella Vita will be one of the best value decisions your family can make.
Allegro Builders has developed their company the same way you'd expect a master builder to erect a structure: hands-on, strong foundation, and from the ground up.  Each of their designs and homes are timeless, tradition-proved to last.  They also love to hear what their customers have to say in order to make each Houston home uniquely different and specifically designed for you.  Furthermore, the Texas Association of Builders has recognized Allegro Builders as the Custom Builder of the Year in 2012.
Jeffrey Harrington Custom Homes has been building custom homes in and around Houston for many years, equating to hundreds of satisfied families.  He has consistently been able to master different architectural styles, sizes, and other challenges.  Their focus on customer involvement and emphasis on 'environmentally friendly green building' allow them to stand apart from other builders in the area.
Northstone Builders is dedicated to smart design, building a home to first benefit a family's lifestyle and envelop these features in luxury amenities once these needs have been met.  They take pride in their innovative craftsmanship and are committed to building relationships with their clients that last beyond the design and construction process itself.
Trendmaker Homes is conscientious of the ever-present battle between stunning luxury features and the realities of a new home buyer's budget.  They specialize in building custom homes in Houston that are financially accessible, maintaining a balance that is difficult to master in the business.  Vist their Design Center to see just how they can merge high style and efficiency to make your dream home a reality!
Whitestone Builders has a passion for building time-tested, beautiful homes while utilizing all the technological progress of new home construction.  With an eye for details and a commitment to excellence in customer service, Whitestone seeks to further develop Houston's heritage in their design and strengthening bonds with new home owners in the city they love.  Each house is a piece of art unto itself: distinctive, valuable, and long-lasting.
We encourage you to contact any one of these Houston custom home builders for the finest experience in construction and design.  (We'll leave you with the tough decision to figuring out which one to pick!)