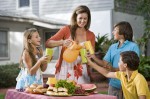 Carrington Lakes is a beautiful community located in Norman, Oklahoma with available homes for sale from Landmark Homes. Their home at4605 Kingsland offers 4,055 square feet for $579,895 built to the excellent Ava floorplan.
Carrington Lakes is located on the SW corner of 36th Ave NW and Franklin Road in Norman. With easy access to 1-35, the community offers an excellent neighborhood feel. There are several lakes and miles of walking trails throughout the community common areas. A clubhouse offers a swimming pool, open-air pavilion, and playground. And there's the "Mom's Council"!
Completely unique to Carrington Lakes, the Mom's Council is a group of residents that work to make the community a fun and interactive home for children. They coordinate different events throughout the year such as Fourth of July parades, community Easter Egg hunts, and other fun events to bring the kids and community together. It creates a very special atmosphere to the area, and is inviting and welcoming to all families.
In order to check out the area, go south on I-35 to Indian Hills Road. From that exit go west to 36th ave NW. Go south to Franklin Road, then west on Franklin to one of the two entrances south into the Carrington Lakes addition. Interested in a custom home here? For more information, call (405) 292-5263.
Landmark Fine Homes is a custom home builder around the Metro OKC area. Their commitment is to build energy efficient, high quality, crafted custom homes. Their building area includes Carrington Lakes' city Normal, and Edmond, Moore, Mustang, Piedmont, Deer Creek, Choctaw, Guthrie, Yukon, Noble, Tuttle, Newcastle, and Oklahoma City. Their superb work earned them the 2012 America's Best Builder by Builder Magazine.
For more information on Landmark Homes or a home in Carrington Lakes, contact them here.