About the Builder
Build on your lot, your way with McGuinn Hybrid Homes. With three different levels to choose from, McGuinn gives you the options you need to find the perfect home for you.
Build On Your Lot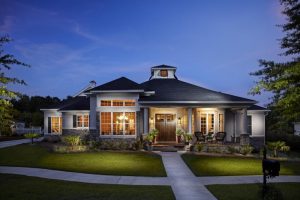 McGuinn Homes allows you the option to build your home on your lot – and that's only the first in a series of choices you'll be able to make. McGuinn also offers three distinctly different options perfect for any budget:
Level One – Best Value Homes. Choose from McGuinn's "Your Home, Your Way" plans and personalize your plan using their variety of options.
Level Two -Value Custom Homes. Customize one of McGuinn's stock plans, choose from a huge selection of options, and let the McGuinn team add their own expertise.
Level Three – True Custom Homes. Unlimited choices, the option to bring your own plan…if you want it, it's yours.
The McGuinn Hybrid Home
Designed with the environment in mind, the McGuinn hybrid home saves you money on utility bills while focusing only on the areas with the most benefit.
So what comes in a hybrid home? Here's just a few of the features:
Low-E vinyl windows
Programmable thermostat
Natural gas heat
Engineered roof systems
Energy Star appliances
Low-maintenance vinyl siding
CFL/LED bulbs
…and more!
The Selections Gallery
No matter your budget, the Selections Coordinator at McGuinn's Selections Gallery is here to help. You're more than welcome to bring your own fabric samples, paint swatches, and photos of your favorites as you talk through choices for your new home.
And if you run across an item you haven't even considered yet? No worries! The coordinator will be there with expert advice tailored just for you.
Get More Information
If you're interested in learning more about hybrid homes by McGuinn or are ready to start the building process, be sure to contact their team today!