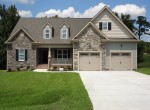 Wynn Homes, formerly known as Wynn Construction, has been building new homes in North Carolina for fifteen years. Bill Wynn started off selling 5-10 homes each year and has grown his business to selling over 160 homes per year. For the last five years, Wynn Construction has been recognized in the top 200 home building companies in the nation by Builder Magazine.
They currently build in Hunter's Mill, Applewood, Carriage Hill, Chesleigh, Anderson Creek Club, Trotter's Ridge, West Ridge, Village at Rockfish, Millstone, Woodfield, Rennshire, Heritage Hall, Ashton Meadows, Carolina Plantations, St. James Park at Williamsburg Plantation, Canon's Edge, Watercrest Landing, The Landing at Everett's Creek, Woods Plantation, and Meadows of Dukes Lake.
If you already have a lot you love, they will also build on your very own lot! They have over forty floor plans to choose from, and will work with you to find the perfect choice for your land and budget.
Wynn Homes has houses available in all styles and sizes. Their available houses range from 1,272 to 3,557 square feet. They come with three to five bedrooms, and up to three full bathrooms. You are sure to find a house that will fit your family's needs perfectly.
This happy homeowner said, "Scott was so nice and very helpful during his visit. He called me shortly after I submitted my request and scheduled a visit. He showed up on time and made me comfortable with my concern. Just prior to his arrival I started to have trouble with my door and he was so patient and kind that he took care of the problem, even though it was not a part of my original request. He also gave me some good advice and answered all my questions. I really appreciate the great service!"
The entire staff is highly experienced and will help make your homebuilding process as seamless as possible. If you are looking to build or buy a new house in North Carolina, their staff will help turn your dreams into a reality. Contact them today to find your perfect plan and get started.