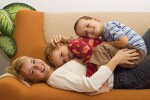 Manuel Builders builds custom homes in Lafayette while providing clients with open communication, trust, collaboration, and continuous innovation. With an emphasis on human connection, Manuel Builders are proud to take care of their clients by providing excellent customer service throughout the building process.
Manuel Builders offers a Design Build process to their clients, which they smartly call "one stop shopping." The only "stop," or agreement, you'll have to make is one with the builder. Other homebuilders will have you sign contracts with architects, interior designers, and more, but Manuel believes it's in their clients' best interest to limit the contracts to one.
In addition, you're signing up for a truly custom home, not just a floor plan with slight modifications. Their in-house architect will help you create a layout that works for your lifestyle and their interior design consultant will help you add final decorative touches once your home is completed. If you are ready to get started on the home of your dreams, why not start a folder on Manuel's site? Click here!
If you're interested in a move-in ready home, they have plenty of floor plans to choose from in several communities throughout Lafayette Parish.
Located in Carencro, Louisiana, Brock Pointe is an affordable community with some impressive conveniences. This fast-growing neighborhood is home to many modern niceties, including: shopping, dining, schools, employment, and hospitals. Homes here are situated on quarter-acre lots and the entire community is securely fenced and gated. Children living here will attend Lafayette Parish School System, including Ossun Elementary, Carencro Middle, and Carencro High schools, with the option to attend Lafayette Christian Academy.
Summerfield in New Iberia is located close to Main Street and offers its residents plenty of cozy charm. These homes are generously spaced and have lots of curb appeal. Children living here will attend The New Iberia Parish School District, including Daspit Elementary, Belle Place Middle, Westgate High, or Catholic High schools. Homes here range from 1,250 to 1,900 square feet and start at $150,000.
The Gardens in Abbeville features thoughtfully constructed homes with many distinct construction details. These homes qualify for 100% financing and include a Home Owner's Association, landscaped yard, wood and brick accented front facade, fenced private yard with a gate, and are built away from the flood zone. Available homes start at $134,900 and can be viewed here.
Clients are happy with the homes that Manuel Builders in Lafayette Parish offer. One happy customer commended the company on their professionalism, saying, "We love our home! Your staff was very professional and patient during stressful situations. We would like to thank you for making our Dream come true."
To get started on your new home, contact Manuel Builders today!