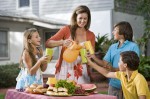 If you're contemplating building or buying a new home, be sure to get in touch with JayMarc Homes, a quality home builder in Seattle.
JayMarc Homes is known for their three trademarks: spectacular floor plans, attention to detail and a luxurious finish, and top-notch customer service. Their aptitude for green building means you'll have an energy efficient, environmentally-friendly home built to withstand time.
Those looking for a custom home will take comfort in the easy, three-step process laid out by the company. Design, construction, and service & warranty highlight the three major stages of custom home building, and their dedication to customer service means you won't be left out of any step of the process.
If you're interested in a move-in ready place, they have several wonderful Seattle neighborhood sites, including locations in Mercer Island, Bellevue, and Forest Lane.
Whether you're looking for a custom home builder or simply want a move-in ready home in a great community, JayMarc Homes can help you build the perfect home of your dreams.