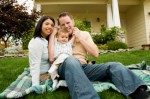 Crescent Homes is a new home builder in Charleston, James Island, Summerville, and a number of other beautiful South Carolina communities, including Riverland Park.
Crescent Homes in Riverland Park community offers new home owners high quality construction in addition to convenient locations and access to Charleston, Folly Beach, and other local amenities.  Residents have every opportunity to play at the City of Charleston Golf Course, and Riverland Park is actually within 5 minutes from the downtown areas of Charleston.  One of the finest dog parks in the area (James Island County Park) is within walking distance of your front door, perfect for quick trips for play and exercise.
Riverland Park was built to incorporate large-sized homesites and a fair number of superior floor plan designs to choose from.  These begin in the low $300,000s and range from 1,996 to 2,900 square feet in size.  Many of these feature open air layouts in a 2 story set-up, double porches, bonus room options, crown molding, trey ceilings and potential for homes to include up to 5 bedrooms.  With so many customizable options, it's no wonder why Crescent Homes has been consistently recognized as a premier homebuilder in Charleston and James Island.  In addition, each Crescent Home in Riverland Park is specifically built to higher energy standards than most builders in the area.  Every single new home can boast the latest energy efficient upgrades and "earth friendly features, materials, and appliances, for a healthier home that reduces your impact on the environment."
Families with children who choose Riverland Park will be elated to know that Charleston County District 3 will welcome their little ones with open arms.  Your students will learn, grow, and make life-long memories of their time attending Murray LaSaine Elementary School, James Island Middle School, and James Island Charter High School.
Interested in stopping by and taking an in-person tour?  It's really quite easy to get to!  Take Exit 221-A from I-26 East and merge onto US 17 South (Crosstown) as if you were going to Savannah.  Keep driving along US 17 South until you can veer a little to the left onto Folly Road Boulevard.  This access will be made evident by the signs for SC-700 Folly Beach.  Continue over the Wappoo Bridge and stay in the right lane.  When you see Maybank Highway, turn right.  Riverland Drive will be to your left, followed by the entrance to Riverland Park itself.
Melissa Strickland is the Riverland Park Sales Representative.  Give her a call today at (843) 343-8689.