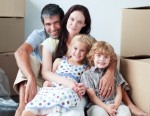 When it comes to choosing a new home, there are a multitude of factors that go into your decision. One important distinction to make is whether you want a custom-built home or a standard design. If you're debating whether to buy a home from a production builder or a custom builder, take a look at these important considerations.
First, let's differentiate between custom home builders and production home builders. Production home builders build on land owned by their company, while custom builders typically build on lots selected and purchased by their clients. Production builders may allow customers to choose a floorplan from a limited list of blueprints, or may allow for slight variations on a standard plan. With a custom builder, the client's design "fingerprint" and personal tastes and needs become the blueprint used to create their one-of-a-kind home. Custom builders often take on a limited number of construction projects each year, usually no more than 25, while production builders take on larger-scale projects that might include constructing an entire neighborhood community.
When it comes down to it, many homebuyers find that their choice to build a custom home stems from their need to have a house that is perfectly tailored to their lifestyle. Production builders can't offer the variety and flexibility in a single-family home that custom builders can. Custom builders offer client customization throughout every step of the homebuilding process, starting with choosing a lot and continuing through the final finishing touches. A custom builder can recommend a home site or features that would make your home compatible with your family and lifestyle. Custom homes tend to be high-end, luxurious homes and may be located in non-traditional neighborhoods.
In contrast, production builders design floor plans with minimal customizable options and are busy during most of the year, due to the large volume of construction projects they commit to. They build many types of homes: apartments, rental units, condominiums, townhomes, commercial residences, and single-family homes. This variety in construction means they can accommodate a wide range of budgets.
Customer service is one aspect of choosing a new home that should not go overlooked. Since production builders construct a limited number of floorplans, they are experienced in the options they offer; this means the process of constructing a home will be relatively quick. However, custom builders are known to pay attention to every detail their clients prefer and are dedicated to working with customers as a team and make sure to maintain strong lines of communication.
For more information about custom builders, production builders, and other methods of home construction, check out this National Association of Home Builders guide here. Choosing a builder for your new home can be a difficult process, and though there are multiple benefits to custom builders, we'll leave it up to you to decide which style fits you best!