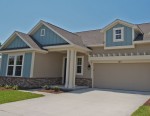 Matt Brandman and Hunter Collins established Samuel Taylor Homes out of Panama City Beach in 2011. The two professionals have been in the industry for many years, and they had a vision to create exceptional new homes without the frustrations that often accompany the process. Their company philosophy revolves around excellent communication and customer involvement. This means that they are there for you from signed agreement to after move-in day whenever assistance is needed.
Samuel Taylor Homes currently build in Breakfast Point, The Glades, SeaView Trace, and Whisper Dunes in Panama City. They also build in Greenway Park out of Seagrove Beach, Florida.
One of their available homes is at 217 Johnson Bayou Drive in Panama City Beach, and sits on a spacious 2,713 square feet. It comes with four bedrooms, three full and one half bathrooms, two-car garage, spacious open floor plan, bonus room, guest suite on the second floor and much more. It is located within their Breakfast Point community, which is within two miles of the Gulf of Mexico and its sugar white sand beaches.
Aside from the nearby beach, there are also parks, an aquatic center, grocery stores, shopping, dining, and health clinics all within five miles of Breakfast Point. There is sure to be something to entertain you and your entire family nearby!
The Samuel Taylor Experience is summed up completely in six steps:
1. Sales Associates: From homesite selection to design choices, their highly trained professionals will help assist you in all aspects of your decision making-process.
2. Expert Craftsmanship: Their team of architects, engineers, and construction professionals are committed to building you the highest quality home possible.
3. Sustainable Design: All Samuel Taylor Homes are built with the most cost-effective and energy-saving features available today.
4. Financial Partners: They have customer-focused mortgage partners to assist you in all financial aspects of your buying process.
5. Quality Products: They only use manufacturers with a reputation of quality for all appliances and fixtures.
6. Customer Service: Samuel Taylor has built such a successful business because of clients and referrals. Their customer service promise lasts long after move-in day.
Contact Samuel Taylor Homes to get started building your custom home in Northwest Florida. This customer-driven company is sure to be an excellent choice from start to finish.